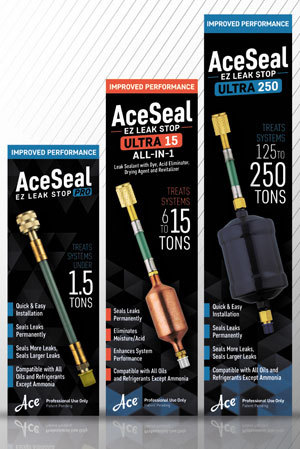 Ace Expands Range of HVACR Leak Sealants to Treat Systems up to 250 Tons
May 13, 2019
Ace® (Atlantic Chemical and Equipment) now offers a range of HVACR leak sealants to treat systems from 1 ton to 250 tons. Ace® has also introduced the AceSeal EZ LEAK STOP ALL-IN-ONE product which seals leaks permanently, eliminates moisture and acid, locates large leaks and enhances system performance. The ALL-IN-ONE product is available in 1.5-5 tons and 6-15 tons.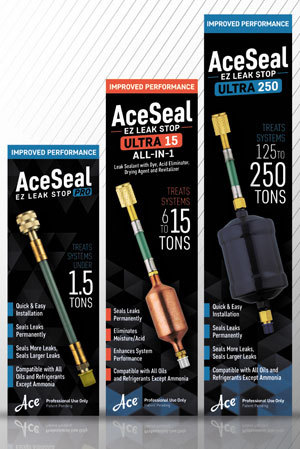 The very successful AceSeal EZ LEAK STOP PRO range of concentrated refrigerant leak sealants are supplied with hose injection delivery systems that makes installation of the leak sealant simple, fast and easy. The proven formula, which has been tried and tested for more than 14 years, is supplied in a clear hose and permanently seals microscopic leaks without need to pump down the system even for R410A applications. Available with or without dye and in 3 sizes – up to 1.5 tons; 1.5-5.0 tons and 6-15 tons systems.
Ace® still offers their AceSeal EZ PRO DRY, an a/c drying agent formulated with a dehydrating agent which converts harmful moisture in the system to an inert silicone oil. This oil blends with the a/c lubricating fluid to further enhance lubrication inside the a/c system. Treats systems up to 5 tons.
To complement the line, the company has also added AceSeal A/CR Acid Dr. The highly polar molecules in the formula bond with moisture/acid in the system, and through the refrigeration process of going from liquid to vapor, produce a synthetic oil.
ACE®, an Atlanta-based manufacturer, offers the HVAC/R wholesaler the widest choice of chemical products available from one source. Products offered include coil cleaners, refrigeration oils, aerosol products, IAQ products, condensate repair and refrigerant line flushing/acid removal products and many more.
The company's products are sold exclusively through HVAC/R wholesalers nationwide.
For more information and to locate a stocking wholesaler near you, contact Cain Sales Company by calling 727.593.9999 or visit www.cainsaleshvacr.com to find your region's representative.