Does Your HVAC Tape Measure Up?
December 08, 2020
By Kelly Patrick, Sr. Product Manager — Building, Construction, and OEM at Shurtape Technologies, LLC
Evaluating HVAC tape products isn't a matter of guesswork. An HVAC tape's performance is directly related to its measurable characteristics, and understanding the impact of each one of those characteristics is critical to choosing the right tape for the job. Shurtape® looks at the following six measurable characteristics to produce high-performing HVAC tapes. Consider this same set of characteristics whenever you want to know how well a given tape will measure up to the standards of HVAC professionals.
Permeability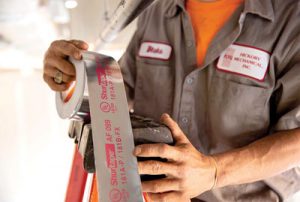 What it is: Permeability is the ability of a tape's backing to allow or prevent air leakage into or out of the system. For HVAC, you are looking for tapes with low permeability.
Why it's important: Low permeability helps to ensure full system closure – a system free of leaks – in HVAC installations or maintenance repairs, which in turn delivers greater system efficiency and performance. A tape's low permeability not only prevents air from leaking out – it also helps keep contaminants that could impact indoor air quality from getting into the system.
Tack
What it is: Also known as "wet grab," tack is the initial stickiness of a tape's adhesive.
Why it's important: Tack allows tape to stick quickly during application and form a permanent and strong bond. A high level of tack is what prevents the edges of tape from rolling up or "flagging" – falling back off.
Adhesion
What it is: Adhesion refers to how well the tape will form a permanent bond to the surface on which it is applied.
Why it's important: HVAC work involves many types of surfaces, from insulation and sheet metal to flexible ductwork, fiberglass and more. Each surface requires different adhesion properties to ensure a proper bond to the application surface. UL Listed HVAC tapes are specifically tested for their adhesion abilities to surfaces found in HVAC work.
Conformability and Elongation
What it is: Conformability is a tape's ability to be pressed around and onto irregular or non-smooth surfaces. Elongation is how far it can stretch until it breaks or rips apart.
Why it's important: To properly wrap around and adhere to the application surface, the tape must be able to conform and elongate the right amount – depending on the needs of the application. Electrical tapes, for example, are very elastic and allow a great deal of elongation, whereas foil tapes have very little elasticity and exhibit almost no elongation.
Shear
What it is: Also known as "holding power," shear is the measurement of a tape's adhesive strength or cohesiveness.
Why it's important: Cohesive failure can cause tape to break down prematurely, compromising the system's performance. HVAC tapes need to remain intact for the life of the system in order to achieve and maintain full system closure. When testing a tape's shear properties for UL Listing, the tape is subjected to rigorous testing that includes holding weights of differing sizes for various amounts of time in different temperature and humidity conditions.
Temperature
What it is: Temperature includes both application temperature (the conditions under which the tape will be applied) and service temperature (the conditions the tape will be exposed to during the life cycle of the system).
Why it's important: HVAC tapes must withstand extreme hot and cold temperatures. The climate of the HVAC system often dictates the required temperature range, but it is better to have a wide application temperature range. Cold temperatures in particular can wreak havoc on a tape's adhesive. That's why special adhesives have been formulated to withstand freezing and subfreezing temperatures.
Whatever your HVAC application, look to Shurtape for products offering the right combination of features to ensure full system closure and peak performance.