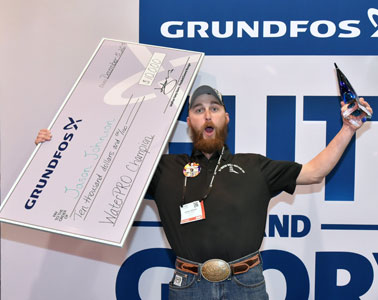 Grundfos Names WaterPRO Champion at NGWA Groundwater Week
January 15, 2019
After a year of fierce competition at 75 qualifying events around the country, Grundfos named its WaterPRO Champion at the National Groundwater Association's Groundwater Week in Las Vegas. Jason Johnson of A-1 Water Well Service in Lindsborg, Kan. had the guts to take home the $10,000 prize and the glory of being named the first WaterPRO Champion.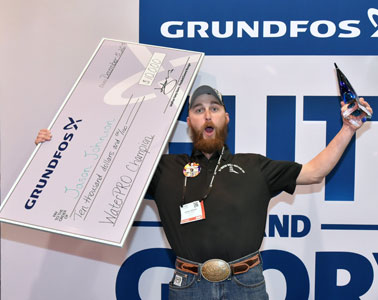 Grundfos held local qualifying competitions throughout the year, tasking participants with assembling a Grundfos 4" SP pump end. Those with the 12 fastest times overall were invited to participate in the semifinals at NGWA. At NGWA, two semifinal walk-on spots were available for show attendees who wanted to try their hand at the challenge at Grundfos' booth.
The semifinal competition tasked participants with replacing a Grundfos MQ pump with a SCALA2 booster and filling a water basin in the shortest amount of time. Four heats took place to whittle down the 14 participants to the top three fastest. Grundfos product experts were on hand to referee the event to ensure the pumps were installed properly and no disqualifications took place. At the end of the four heats, the three finalists were:
Levi Lockhart of Ski Line in Enid, Okla.: 4 minutes, 4 seconds.
Jason Johnson of A-1 Water Well Service in Lindsborg, Kan.: 4 minutes, 13 seconds.
Brian Butcher of Chambers and Phillips in Canton, Tex.: 4 minutes, 36 seconds.
Immediately following the semifinals, the top three participants were asked to hook up a Grundfos SQE submersible pump to the Grundfos CU301 controller, then adjust the pressure settings to float a disk above a pressure marker. Johnson had the fastest time at 2 minutes and 37 seconds; Butcher came in second place with a time of 3 minutes and 45 seconds; and Lockhart finished with a time of 5 minutes and 20 seconds. Butcher and Lockhart received second and third place prizes of $3,000 and $1,500, respectively, while Johnson took home the grand prize of $10,000 and the title of WaterPRO Champion.
The finalists were honored during a hospitality event that night at the Hard Rock Café, where more than 800 Grundfos customers and partners took part in the celebration. When asked how he prepared for his stellar performance, Johnson said, "I watched just about 800 YouTube videos of just about every Grundfos product I could think of… thinking if it's this, how can I go faster?"
The WaterPRO Championship will continue in 2019, and more information will be available on the WaterPRO Championship website at www.grundfos.us/WaterPROChampionship. Check the WaterPRO Championship website for more information and to watch the highlight reel from the 2018 event.
About the Grundfos WaterPRO Program
The Grundfos WaterPRO program gives dedicated water well contractors exclusive benefits that make doing business easier, including: private training with Grundfos Technical Sales Managers; access to the Grundfos technical support chat app; customizable service stickers; extended product warranty; and more. Learn more at: www.grundfos.us/waterpro.
About Grundfos
Grundfos is a global leader in advanced pump solutions and a trendsetter in water technology Grundfos supplies complete pumping systems and solutions for buildings, industry and every aspect of water use. An annual production of more than 16 million pump units makes Grundfos a leading pump manufacturer with more than 18,000 employees worldwide. Key products include circulator and centrifugal pumps for industry, water supply, sewage and dosing; as well as standard and submersible motors and state-of-the-art electronics for monitoring and controlling pumps. In the U.S., more than 1,200 employees staff operations, sales and service facilities in Illinois (North American HQ), Kansas, Pennsylvania, California, Texas, Indiana and Alabama. Grundfos provides comprehensive market coverage in North America through a number of marquee product brands, with more than 765 years of service combined.
High on the company's corporate agenda is an active commitment to improving the environment. Grundfos contributes to global sustainability by pioneering technologies that improve quality of life for people and care for the planet. For more information, visit www.grundfos.us, or follow us on Facebook.