Lantz Technologies Group (LTG) is made up of a passionate team with over 75+years of experience in the HVAC/VRF/Controls Industry. An internal and external business development support team that provides engineering, sales, controls and marketing support in the residential and commercial building industry. Their mission, "To disrupt convention in the HVAC industry," drive and focus is fueled by Lantz, the grandson of CEO, Debbie Forcier-Lynn and her husband Jason Lynn. In May 2016 Lantz was diagnosed with a stage 3 brain tumor. This journey has become their "WHY" for how they do business and connect with their network partners and clients.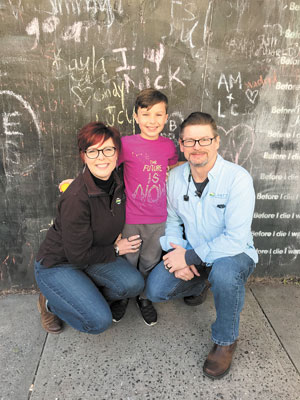 In today's fast paced market, finding industry leaders who are true experts can be a very daunting task. LTG likes to think they are "doing something no one else is doing." Everyone knows this industry can be complex enough on its own, that's why they work with their network partners across the country to assist differently…in a relaxed, learning, and supportive manner. Everything complex becomes understandable through a unique process of trainings, coaching's and relationship building.
Quite frankly, LTG knows their audience and listens to what they need and want. They provide valuable tools and technology, assisting in an engaging and authentic way to reach their market in a win-win for everyone.
So… you still may be asking, "What do they do?" It's simple, Lantz Technologies Group bridges the gap between manufacturer, supplier, and provider; fueling the success between these groups by connecting them to their desired markets. Imagine this…. A manufacturer wants to be in the US market, they provide the tools and means to do so. With an engaged group of suppliers and providers they reduce the stress by facilitating dynamic partnerships in a non-threatening, growth producing manner. As Forcier-Lynn states, "We are the American presence supporting global technologies and products in the market…That Simple."
The company is named in honor of Lantz, Debbie and Jason's Grandson. Debbie and Jason boldly say, "We are successful and effective because we know our WHY…Why we do what we do…We are committed to creating opportunities for children and families affected by pediatric cancer."
They do this by giving to Pediatric Cancer Research. Jason affirms, "We want to give hope when fear seems to be the greatest. We are a LIGHT when things seem their darkest. This commitment allows every person that works with us to be a part of 'giving back' and 'making a difference' in the lives of so many. This is the "WHY" behind everything we do!"
The entire LTG Team wants everyone to know, "The journey is far from over, and actually, it's just beginning. Lantz and the way he embraces life has changed so many. He is an inspiration and reminder that life is a precious gift, living with purpose and meaning is your opportunity and why you are here!"
For more information visit our website at: www.LantzTechnologiesGroup.com or email us at: Results@LantzTechnologiesGroup.com.