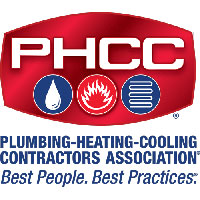 PHCC Educational Foundation Donates Contest Materials to Habitat for Humanity of Greater Albuquerque
November 02, 2018
Every year, the Plumbing-Heating-Cooling Contractors National Association (PHCC) Educational Foundation counts on volunteers and donors for many of the materials used to simulate a "real world experience" for its Plumbing and HVAC Apprentice Contests at CONNECT, this year held in Albuquerque, New Mexico. Through a generous donation to Habitat for Humanity of Greater Albuquerque following the conference earlier this month, the Foundation made sure that some of those same materials would continue to benefit others in this year's host city.
At the conclusion of the CONNECT 2018 contests – where 19 plumbing and 10 HVAC apprentices demonstrated their knowledge and skills and competed for top honors – contest committee volunteers and apprentices helped load up many of the materials for the local Habitat for Humanity. Among the materials were 19 toilets, lavatories and faucets (donated by Kohler Co.); more than 30 PVC pipe sections (donated by CISPI); plus wood, Masonite and plywood.
"Our volunteers and donors are the lifeblood of these contests," says PHCC Educational Foundation Chief Operating Officer Cindy Sheridan. "They all have a very generous spirit and want to give back to a trade that's been so good them by inspiring our industry's future workforce, so it's only fitting that the materials they helped to provide will continue to result in something positive way past our time in Albuquerque."
Specifically, the materials were donated to Habitat for Humanity's ReStore, a retail home improvement store that sells new and used building materials at greatly reduced prices. In turn, the income generated from ReStore helps Habitat for Humanity build more homes for low-income families.
"With donors like PHCC, our affiliate is able to fulfill our vision that no one in greater Albuquerque will live in substandard housing," says Habitat for Humanity of Albuquerque Executive Director Joan Costello. "PHCC's generosity is helping low-income families realize their dream of homeownership. Your part in changing lives has a powerful impact on our entire community, and we are humbled by your support of our work."
About the PHCC Educational Foundation
The PHCC Educational Foundation, a partnership of contractors, manufacturers and wholesalers, was founded in 1987 to serve the plumbing-heating-cooling industry by preparing contractors and their employees to meet the challenges of a constantly changing marketplace. For more information, contact a member of the Foundation staff at (800) 533-7694 or visit phccfoundation.org.