Resideo Launches New Entry-level Thermostats
March 13, 2020
Resideo Technologies, Inc. (NYSE: REZI), a leading global provider of home comfort and security solutions, today announced its updated line of entry-level thermostats. The company's first product launch of 2020 offers HVAC contractors reliable, high-quality solutions with precise performance and offers the value-conscious homeowner a wider range of options.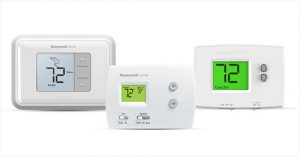 "Our ongoing commitment to the professional channel, coupled with our legacy of innovation, uniquely positions us to meet the expectations of the professional channel, HVAC contractors and homeowners," said Petrina Zaraszczak, vice president and general manager, Comfort at Resideo. "Resideo is expanding our robust, entry-level Honeywell Home thermostat portfolio with classic retrofit options and familiar features our HVAC contractors have come to trust and expect from us."
Available through Resideo's extensive distributor network, the new solutions feature reliable, high-quality options for contractors that help minimize callbacks and homeowner questions. Homeowners have intuitive and easy-to-read controls and precise temperature adjustment to maintain consistent comfort at the highest level of accuracy. The solutions include:
Honeywell Home PRO 3000 – Back by popular demand and now available, the PRO 3000 offers a basic, non-programmable thermostat with a large digital display that is easy to read in various lighting conditions. Contractors can expect a familiar footprint and seamless, retrofit installation.
Honeywell Home E1 PRO – The new entry-level, non-programmable thermostat features a large screen and font size for easy viewing. Available summer 2020.
Honeywell Home T3 PRO – The newest addition to the T Series, the non-programmable thermostat features a large footprint and simple interaction and is compatible with both conventional HVAC and heat pump applications. Professional installation is made easier with the shared wall plate featured in the popular T Series family. Available summer 2020.
"From our proven family of entry-level thermostats to our premium, award-winning solutions, Resideo's iconic and reliable Honeywell Home portfolio helps our network of HVAC contractors deliver the right solution for each homeowner, regardless of their needs and expectations," Zaraszczak added.
More information is available for HVAC professionals at https://www.resideo.com/us/en/pro/stay-informed.
About Resideo
Resideo is a leading global provider of critical comfort and security solutions primarily in residential environments and distributor of low-voltage electronic and security products. Building on a 130-year heritage, Resideo has a presence in more than 150 million homes, with 15 million systems installed in homes each year. We continue to serve more than 110,000 professionals through leading distributors, including our ADI Global Distribution business, which exports to more than 100 countries from more than 200 stocking locations around the world. Resideo is a $4.8 billion company with approximately 13,000 global employees. For more information about Resideo, please visit  www.resideo.com.
The Honeywell Home trademark is used under a long-term license from Honeywell International Inc.
Forward-Looking Statements
This release contains "forward-looking statements." All statements, other than statements of fact, that address activities, events or developments that we or our management intend, expect, project, believe or anticipate will or may occur in the future are forward-looking statements. Although we believe that the forward-looking statements contained in this press release are based upon reasonable assumptions, such statements involve known and unknown risks, uncertainties, and other factors, which may cause the actual results or performance of the Company to be materially different from any future results or performance expressed or implied by such forward-looking statements. Such risks and uncertainties include, but are not limited to, those described under the headings "Risk Factors" and "Cautionary Statement Concerning Forward-Looking Statements" in our Annual Reports on Form 10-K for the years ended December 31, 2018 and December 31, 2019 and other periodic filings we make from time to time with the Securities and Exchange Commission (SEC). Forward-looking statements are not guarantees of future performance, and actual results, developments and business decisions may differ from those envisaged by our forward-looking statements. Except as required by law, we undertake no obligation to update such statements to reflect events or circumstances arising after the date of this presentation, and we caution investors not to place undue reliance on any such forward-looking statements.