Diversified CPC International Completes First Phase of New Beaumont Facility
January 04, 2021
Diversified CPC International (DCPC), an industry leader in the design, production, and distribution of the highest purity specialty gasses for a variety of industries, has completed the first phase of their new Beaumont, Texas plant. This new facility, which is located at the Iron Horse Terminals, launched a commercial operation in late November 2020. The company has invested $10 million in Phase I of the project.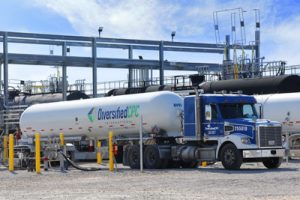 "The addition of the new Beaumont facility is a key step in strengthening our competitive position and ensuring DCPC has all the resources to fully support our customers," said Bill Auriemma, DCPC President and CEO. "We have significantly improved our supply chain capabilities for our aerosol, industrial refrigerant, and solvent extraction customers by consolidating several rail trans-loading operations at one location."
Company officials have shared that Phase II will include the construction of bulk storage and processing capabilities, while Phase III will bring additional manufacturing capacity on-line in the following years.
"Our in-house engineers have incorporated the latest in manufacturing, safety, and environmental control technology into the design of the Beaumont site," said William Frauenheim III, DCPC Vice President of Operations. "We are proud of the entire project management team and our partners at Ironhorse for working diligently during this challenging time to complete Phase I on schedule.
"This investment is a key part of our DCPC 5-year strategic plan," said John P. Dowd II, VP of Strategy and Business Development. "In addition to strengthening our industry-leading customer service capabilities, we will enhance our ability to produce innovative new products that help our customers improve product design, plant efficiencies, safety, and environmental footprints."
The Beaumont operation will be the second major production and distribution facility the company operates along with its Corporate Headquarters in Joliet, Illinois. DCPC also has regional facilities in Illinois, New Jersey, Florida, Mississippi, and California.
About DCPC International
Diversified CPC International, a Sumitomo of America Portfolio Company, is a global leader in the design, production, and distribution of the highest quality aerosol propellants, high purity hydrocarbon refrigerants, solvent extraction, and specialty fluids. In addition to industry-leading products, the company maintains an unmatched focus on customer satisfaction and environmental safety in all of its business operations. They also offer an array of value-added services, including safety and process consulting, storage tank sales and installation, and supply chain management, which provide DCPC clients with a unique competitive advantage in the marketplace.
For more information, please visit diversifiedcpc.com.
About Sumitomo Corporation of Americas
Established in 1952 and headquartered in New York City, Sumitomo Corporation of Americas (SCOA) has eight offices in major U.S. cities. SCOA is the largest subsidiary of Sumitomo Corporation, one of the world's leading traders of goods and services. As an integrated business enterprise, the firm has emerged as a major organizer of multi-nation projects, an expediter of ideas, an important international investor and financier, and a powerful force for distribution of products and global communications through a network of offices worldwide.
For more information, please visit sumitomocorpofamericas.com.
About Iron Horse Terminals
Iron Horse Terminals is a shared infrastructure, heavy industrial development located on 405 acres just outside of the Beaumont, TX city limits. The property is located 30 miles from Mont Belvieu, the largest natural gas liquids (NGL) energy hub of America. The site will be served by the Union Pacific and BNSF Railways, as well as 18 regional and national pipelines, which provide a reliable supply of raw materials and distribution outlets for refined products.
For more information, please visit ironhorseterminals.com. n