January 27, 2021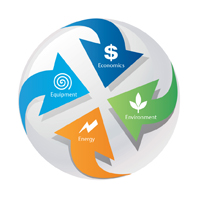 Emerson (NYSE: EMR) announced it will host an E360 webinar on Tuesday, Feb. 16 at 2 p.m. EST (11 a.m. PST) titled "Regulatory Update: Refrigerant Rulemaking and Climate Initiatives." It will be co-hosted by Dr. Rajan Rajendran, vice president, systems innovation center and sustainability, and Jennifer Butsch, director, regulatory affairs, both of Emerson.
This is shaping up to be a transitional year in the arena of federal and state regulations that govern commercial refrigeration and air conditioning applications. This E360 webinar will explore these developments in more detail, place them into their proper context, and offer insights to help you understand the impacts on your business.
At the federal level, the recent enactment of the American Innovation and Manufacturing Act of 2020 (AIM Act) gives the Environmental Protection Agency (EPA) the authority to phase down the consumption and production of hydrofluorocarbon (HFC) refrigerants and establish sector-based limits. Elsewhere, California and other members of the U.S. Climate Alliance are moving forward with their own state level HFC phase-down mandates.
"While retailers outside of the state of California currently may not face an imminent regulatory mandate, member states of the U.S. Climate Alliance are moving forward with their own HFC phase-down initiatives, which include the adoption of EPA SNAP Rules 20 and 21," said Butsch. "With a new administration taking office, we're likely to see a new tone and urgency with respect to broader climate initiatives."
Join us as we place all these important developments into their proper context and offer insights to help you understand the impacts on your business. Attendees will learn about:
Status of California Air Resources Board (CARB) regulations/proposals and their potential impacts
Review of U.S. Climate Alliance state activities and adoption of EPA SNAP Rules 20 and 21
Overview of AIM Act and its potential impacts
Updates on codes and standards for flammable refrigerants, such as UL 60335-2-89 and ASHRAE 15
Impacts that a new administration may have on climate initiatives
Mark your calendar now for this free E360 webinar. To register, go here. For more information on Emerson's heating, ventilating, air conditioning and refrigeration (HVACR) technologies, visit https://climate.emerson.com/en-us.
About Emerson
Emerson (NYSE: EMR), headquartered in St. Louis, Missouri (USA), is a global technology and engineering company providing innovative solutions for customers in industrial, commercial and residential markets. Our Automation Solutions business helps process, hybrid and discrete manufacturers maximize production and protect personnel and the environment while optimizing their energy and operating costs. Our Commercial and Residential Solutions business helps ensure human comfort and health, protect food quality and safety, advance energy efficiency, and create sustainable infrastructure. For more information, visit Emerson.com.