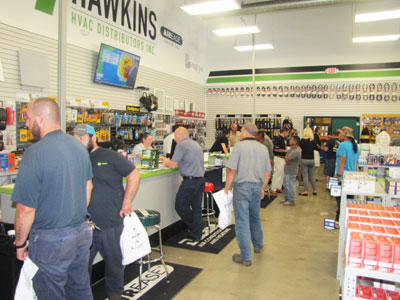 Hawkins HVAC Distributors, Inc. Celebrates New Location in South Charlotte, N.C.
October 30, 2018
The Grand Opening of Hawkins HQ and new branch had a very large turnout with over 200 guests and 30 vendors for their new 40k square foot South Charlotte location on September 12th, 2018. Joe Hawkins and Dick Dickson, who have a long professional history in the HVAC/R industry were on hand to greet and socialize with the attendees.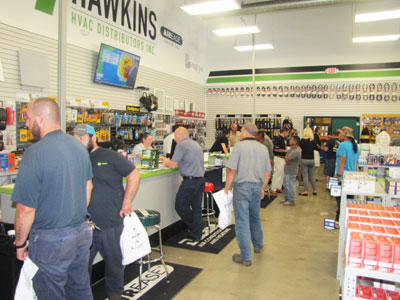 Joe and Dick, along with their knowledgeable and friendly staff, opened this new massive facility conveniently located at 11107 S. Commerce Blvd Suite K, Charlotte, NC 28273. The facility is located close to I77 off of Westinghouse Blvd. and has a large well stocked showroom and a huge distribution warehouse.
The attendees were treated to an outstanding catered lunch and refreshments by Butts R Us that included Pulled Pork, Mac & Cheese, Corn on the Cob, Cole Slaw, Baked Beans and Banana Pudding.
The Grand Opening also introduced their new Branch Manager, Jim Gerringer, Counter Sales associates, Damien Carter, Jon Eble and warehouse manager Cristian Maldonado.
Attendees registered for prize drawings to win an AirEase Pro Series 20 SEER Communicating System, a Club Car Custom Golf Cart, and many other items.
The Hawkins Distributors concept emphasizes an expanded inventory of AirEase & Ducane, as well as a wide variety of parts and supplies including but not limited to Field Piece, Yellow Jacket, J/B, Nu-Calgon, ACE Chemicals, US Motors, Emerson and much more
Hawkins Distributors also carries LG Ductless split systems for those applications where duct work is not needed. See pictures of the event on following pages.
Stop in and see the new location. The phone number for the South Charlotte, North Carolina store is 833-678-2666. Or visit www.hawkinshvac.com.
Additional photos of this event are available here.