Join Tropic Supply and Glasfloss in Supporting Breast Cancer Awareness Month in October
October 05, 2020
Tropic Supply is once again asking contractors to join them in supporting Susan G. Komen® in their efforts to increase breast cancer awareness during October and in their fight against the disease throughout the year.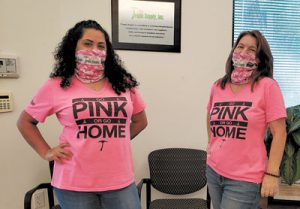 Tropic Supply began their annual involvement with Susan G. Komen® in 2014 and have had more than 225 contractors participate over the years with $42,000 in donations generated.
"Our commitment to help bring awareness and find a cure for breast cancer began with a customer and friend who was diagnosed with the disease," stated Nicole Parrish of Tropic. "One of our Resource Center leaders asked us to rally around the cause. Since that request, we have supported Susan G Komen's mission of eradicating breast cancer as a life-threatening disease by advancing research, education, screening and treatment."
Tropic Supply is committed to continue supporting Susan G Komen®, as many of their employees have been personally impacted by the disease and they want to do their share in finding a cure and helping those who suffer from Breast Cancer.
"We know many in the HVAC industry who were personally impacted either by having the cancer themselves or having a family member who had it and we want to continue to support them as well," Nicole concluded.
This year, air filtration products manufacturer Glasfloss and Tropic Supply have jointly donated $6,000 to Susan G Komen®. They are asking contractors to join them in raising awareness of the devastating disease by participating in their Breast Cancer Awareness SELFIE contest to win one of four Carhartt Tool Rolls. Any contractor who purchases any two cases of Glasfloss filters on a single invoice will receive a FREE PINK CAMO NECK BUFF. Then to enter they will need to take a selfie wearing the buff and installing a Glasfloss filter, email the selfie to Marketing@tropicsupply.com and include their name, company name, and phone number. Then they will need to like Tropic Supply's Facebook page to be entered for that week's drawing. Drawings will be held on Oct. 9th, 16th, 23rd and 30th.
About Susan G Komen
In 1980, Nancy G. Brinker promised her dying sister, Susan, that she would do everything in her power to end breast cancer forever. In 1982, that promise became the Susan G. Komen® organization and the beginning of a global movement. What was started with $200 and a shoebox full of potential donor names has now grown into the world's largest nonprofit source of funding for the fight against breast cancer. To date, we've invested more than $2.9 billion in groundbreaking research, community health outreach, advocacy and programs in more than 60 countries. Our efforts helped reduce deaths from breast cancer by 40 percent between 1989-2016 and we won't stop until our promise is fulfilled. For more information visit https://ww5.komen.org/.
Visit your local Tropic Supply Resource Center for complete details on the SELFIE contest.