Ducane and Oldach Sponsor Entry in CFR SCCA Daytona Showcase 2019
Ducane™ Air Conditioning and Heating and their central Florida distributor, Oldach Air Conditioning & Refrigeration Supplier, sponsored an entry in the Central Florida Region Sports Car Club of America (CFR SCCA) Daytona Showcase 2019 races May 4th and 5th, 2019. Race Factory and Real Street were secondary sponsors of the Race Factory Team car.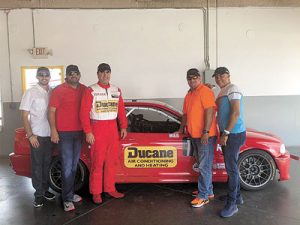 The Daytona Showcase features "road racing" and uses the same course driven at the Rolex 24 Hours of Daytona. Rain and lightning forced the cancellation of some sprint races but the one and half hour Enduro race was completed.
The Race Factory Team R2 Class 2002 BMW 330i, driven by Oldach Marketing & Business Development Director Sergio Sanjenis, competed in the Enduro, starting in the bottom third of the 74 entries from all classes. Though it was his first time in the car and first time racing Daytona, Sergio managed to finish 1st in his class and 17th overall.
"The Race Factory Team did a great job preparing the car, which performed flawlessly," Sergio stated. "I've been racing in Puerto Rico for fifteen years and look forward to competing again at the other Florida tracks."
About Ducane™ Air Conditioning and Heating
Ducane™ is all about providing outstanding value in home heating and cooling. Every product we make has been designed, assembled and factory-tested to make sure it delivers the highest quality, greatest efficiency and longest dependability. It is the Right Choice. Right now. For more information visit www.ducanehvac.com.
About Oldach Air Conditioning & Refrigeration Supplier
Oldach Associates, LLC. has been established in Puerto Rico for over 60 years and represents one of the largest HVAC parts and equipment distributors in Puerto Rico. They operate two facilities in Central Florida, one in Orlando, the other in Kissimmee. For more information visit https://oldachusa.com.